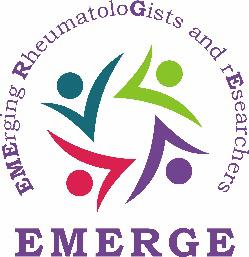 PReS 'EMErging RheumatoloGists and rEsearchers' (PReS EMERGE)
PReS EMERGE group was founded in Genoa, Italy following a brainstorming session at the PReS YIM meeting in September 2016. The overarching aim of the group is to improve the quality of education, provide more clinical and research opportunities and enhance global collaborations for trainees working in the field of paediatric rheumatology.
PReS EMERGE welcomes new members and membership is free. Members receive regular newsletters and will be kept up to date with current opportunities and courses. Members can be actively involved in any of our initiatives if they wish. To join please e-mail emerge.pres@gmail.com. You can also find further information and follow EMERGE on Facebook and Twitter (@PRESEMERGE).
The group are working on several initiatives as outlined below. Further information and applications for our initiatives are announced in the PReS EMERGE newsletter, at YIM and PReS meetings, on the PReS webpage and via social media. Smaller subcommittees within EMERGE take charge of specific initiatives. If you are interested in contributing to any one or more of the activities listed below, please write to us at: emerge.pres@gmail.com.
PReS EMERGE fellowship program

The PRES EMERGE fellowship program was the first initiative to be implemented and the first fellowship was commenced in early 2018. Fellowships facilitate trainees to visit a Paediatric Rheumatology Centre within Europe for the period of up to 6 months where all trainees will be expected to complete a project, and clinicians will also gain clinical experience. There will be two placements every year for paediatric rheumatology trainees and basic researchers.

Peer Review Mentoring Program
A peer review mentoring program, similar to that developed by the EULAR trainee group (EMEUNET) is currently being set up. Each Mentor will work with five mentees with a similar research interest on a structured program over an 12-month period to learn the process of peer reviewing manuscripts which are submitted to journals.


Young Investigators Meetings (YIM)
PReS YIM is an annual meeting of young paediatric rheumatologists and researchers from all over the world. PReS EMERGE have developed guidelines on how YIMs should run and work with YIM organisers to continually improve YIM meetings to further meet the needs of young rheumatologists and researchers.


Education and Courses
PReS EMERGE works closely with the PReS educational committee to support annual educational courses. Over the last few years PReS has provided support for EMERGE members to attend useful courses such as the EUREKA course in translational medicine. Such opportunities are advertised to EMERGE members through our newsletters, mailing list and social media. In the future development of Webinars and online learning opportunities are planned.

Research and collaborations
PReS EMERGE encourages young investigators to be part of ongoing research activities. Each PReS Working Party has an EMERGE representative in its structure, providing update about ongoing initiatives, educational opportunities and research activities. PReS EMERGE organizes individual research projects including EMERGE members as co-investigators as well.

Apart from those, PReS-PRINTO and PReS-CARRA grants recommend to include at least one young investigator as a co-PI which helps us to promote young investigators to join these international research projects.

Global affairs and country liasons, collaborations
PReS EMERGE works with other professional societies such as EMEUNET, CARRA, The Young Pediatric Nephrologists' Network (YPNN), ENCA and The Pediatric Global MSK Task Force to develop shared initiatives. PReS and CARRA have provided support to facilitate PReS EMERGE members to attend CARRA meetings and visa versa. We have joint webinars with YPNN about the common subjects. We are trying to engage the WORDDay activities, held primarily by ENCA group.

This year we started to have country representatives from different parts of the world aiming to spread our word to those areas, try to define their unmeet needs and share our activities to different areas. We now have 34 country representatives which makes EMERGE as a real global inititative.
Contact us and follow us: